Midnight Roses Started out in 1988 The first members was Frank Bakken (Vocals/piano/songwriter), Ola Säther /Dahl(Guitar), Torbjörn Aas (Drums), Rune Eriksen (songcowriter /manager).
Frank, Torbjörn & Ola was playing in a band called Kyrios who started out in 1987 The band was playing at a lot of partys in Trondheim Norway , they did a couple of radio & newspaper interviews but after a year or so Frank & Ola moved to Stockholm Sweden.
In Stockholm they tried out some musicians before they met Maria Lundin (Bass) & Jeanette Lindskog (Guitar). These two girls should become the new part of Midnight roses, so in september 1990 the band begun to play in a big house that Frank had hired outside Stockholm.
After a couple of months they went to a little studio in Jakobsberg where they recorded three songs (the songs where: Emptiness, She was my love & Why hurt me now ) all songs where written by Frank Bakken. In the Studio we had Robert Lundin on drums ( From Dark Funeral, Obscurity, Pain, Cannibal Corpse & more) In april 1991 the vinylsingel Emptiness was realesed the summer 91´ the song why hurt me now (The B-side) was on the radio chart for eight weeks in Norway, it climbed all the way up on second place after Scorpions wind of change. In June 91´ Midnight roses had a little Eurotour thru Sweden, Denmark, Germany, Austria, Switzerland and Italy, in Italy the singel was played on the radio several times (We met a Radio dJ south of Napoli) it was really cool & we sold some records during this tour and that was also great. When we came back to Stockholm we got ourselves a new drummer Tobbe Lindström, he was a multimusician and had a lot of great ideas. In August 91´ we played at Stockholm Water Festival with bands like Inner Circle and Thomas Ledin The autumn 91´ we was on a promotour to Norway where we did some interviews in radio & newspapers, back in Stockholm we did some gigs mostly partygigs.
During the year our Single sold more than 1000 ex. but we where still unsigned. 1992 we mostly played in Stockholm . 92´ was the last year Midnight roses played, the band split up in april, our last consert was at Nova Park Hotel in Flemingsberg there where about 400 people in the audience. Frank, Maria and Robert Lundin played on Stockholm waterfestival in august that year . Frank, Maria, Ola and Tobbe recorded ten songs in the autumn 92, but did never realese the recording the workingname on that record was "Feels like love" the cover was ready but we did not find a recordcompany who would sign us, so that was the end of Midnight roses.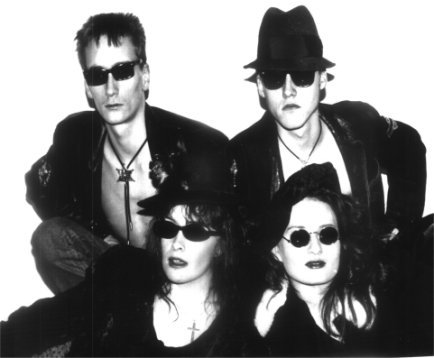 Midnight Roses- 1991